2021 Upward at Temple Baptist

We had a great season here at Temple Baptist Upward Program! Great fun and friendships made. Be sure to check out the photo gallery of a few of the moments from this season.
Don't miss out on 2022 Upward.
Registration will open Spring of 2022.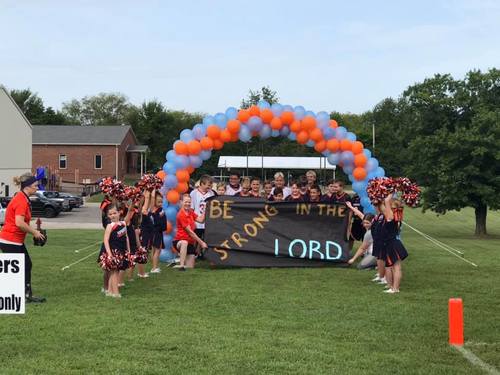 *Evaluation Day Team: Volunteers needed to help run the evaluation drills, greeters, helpers for uniform sizing, registration and more!

*Head Coach: Impact the lives of young athletes by volunteering as a head coach! Use your talents and passion for sport to make sure each player feels welcome, appreciated, inspired, and confident. Be the one to teach young athletes the rules of the game, help them develop new skills through sport-specific drills, and instill a competitive spirit that will prepare them for success in the game, and in life. Don't worry, Upward Sports will be there with you all along the way and provide all the resources you'll need to instruct your team and have a lasting impact in their lives.
Time Commitment: 3 hrs/week (1 hr practice; 1 hr game – 1 hr preparation time)

*Assistant Coach: Make a difference in the lives of young athletes by helping the head coach teach both athletic skills and values for success. Use this time to see if you might want to be a head coach in the future.
Time Commitment: 2 hr/week (1 hour practice; 1 hour game)

*Referee: Do you have a passion for the sport and have a working knowledge of the rules of the game? If so, use this gift to make an impact in the lives of young athletes as an Upward Sports Referee. Be the one who can make the necessary calls, uphold the integrity of the game, and help athletes improve their understanding of the sport. We need you!
Time Commitment: 1 hr/week

*Cheerleading Coach: If you have lots of spirit and love cheering on teams while they play, our league needs you! Make a lasting impact in the lives of our young athletes by volunteering as a cheerleading coach.
Time Commitment: 2 hr/week (1 hr practice; 1 hr game; - 1 hr preparation)

*Scorekeeper: Keep the clock and score of games. No experience necessary.

*Game Day Field Set-Up or Tear-Down: Volunteers are needed to come from 10:00-11:30am to set up fields for the day's games.

*Other volunteers needed:
Prayer Partner
Greeter (Game Day Host)
Concessions Team